Okay, you've done all the hard work.
You've picked your method, your curriculum, you've gotten your budget together, and set up your space. What now?
You've got to plan out your year.
You know what they say, fail to plan and you plan to fail. *forehead slap*
Let's hop to it!
Materials You Need:
Calendar
Schedule (holidays, vacations, special occasions, appointments, etc)
Curriculum
Pencil and pen
Highlighter
Paper/notebook
Planner
Something to munch on
How will you be schooling?
Year round
Along with the public school schedule
Some other variation (i.e. 6 weeks on 2 weeks off, 3 months on 1 month off)
Decide how much you're going to plan at once. The whole year, one semester, one month, or just one week.
I personally do a combination of all of these. I love to plan. That is written with all seriousness. I could just plan stuff and then never do it, but I feel fulfilled because I planned it. I'm sick in the head. I've mentioned that, right?
I get a general plan for the year. Then I fill it in more for the semester. After that I get very detailed for 1 - 1 1/2 months out. If I get too detailed further out I'll inevitably wind up changing it due to something that messed up my plans. Then my whole semester is erased and rewritten. I don't like to create more work for myself.
Step 1
Fill in your calendar with your days off of school.
Make sure the appointments and commitments that you know about at this time are filled in.
Extracurricular activities filled in.
Step 2
What grades are you teaching this year? What are some of the goals and objectives you have for the grade levels?
Step 3
What are the goals you have for each of your children? What do they need to work on? What are their weaknesses and strengths?  Their interests?
Write the goals down for each child and keep them in mind when  you're planning. As the year progresses you want to look at them and see how y'all are progressing with their goals.
Step 4
Look at your curriculum.
What is the frequency of the subjects you'll be teaching? Will you teach math everyday? Will science be everyday, or just two or three times a week? And so forth.
How many lessons are in your curriculum? Does your spelling curriculum just have 30 lessons? That may mean you do one lesson per week, spreading it out through the week or all in one shot.
Don't get locked in with the time though. Your child may whiz through it, or may need more time on each lesson. Embrace this flexibility -- this is one of the best perks of homeschooling!
Step 5
Lists and notes!!
You'll want a list for the books and subjects to check out at the library.
Also make a note to pay your library fine! (Anyone want to pay mine?)
Do you need to start collecting cardboard for a project? A stethoscope?
Need to call your dentist friend to see if she has some materials you can borrow or use? Maybe those red capsules that show plaque.
Call the butcher shop to set up a field trip.
Need some pastels and charcoals for your art lessons? It's better to know in advance so you can be on the look out for the best deals, or maybe you know someone that has some to give you or lend you. Facebook has some groups you can join for such things. Maybe you only need to use that stethoscope once and you could just borrow one rather than buy one. If you wait until the day of or the day before the lesson you may find yourself spending unnecessary money.
Be better than a boy scout (be prepared... a lot).
Step 6
Use your homeschool planner to its fullest. If your planner doesn't have what you need, do a quick Google and you'll be able to find something. There's tons of free and cheap printables. Most especially in the homeschool world. It's a beautiful and dangerous thing.
I use the Weekly Homeschool Planner and I couldn't be happier with it!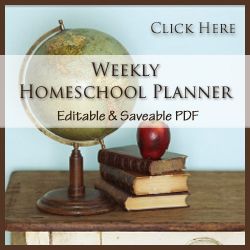 It's an editable PDF that I can use year after year. I can fill in each page and print off as much or as little as I want. Or I can leave it on my computer and not print a thing. It's the most flexible planner I've found. It works for any type of method - unit studies, classical, etc, etc. Love love it! Click here to visit Homeschool Creations.*
Now, go, be wild and free! Frolic in the land of planning!
Oh, and use pencil.
Have any questions? Did I leave something out?
♥ Rochelle
* affiliate link -- which means if you purchase it I get a tiny bonus. Your price isn't increased at all. You will just be helping me replace all those blasted pencils the kids keep losing.